Recently, I took two of my close colleagues out for drinks to celebrate hiring seven people in 14 weeks across multiple cities. Without them, there's no way it would have happened. We created a process and stuck with it even when it didn't bear fruit initially. Although, that's a post for a different day.
We were out at a crowded NYC bar and the topic of resumes came up, but more specifically the "resume objective." How convenient since this was also the topic of my next post.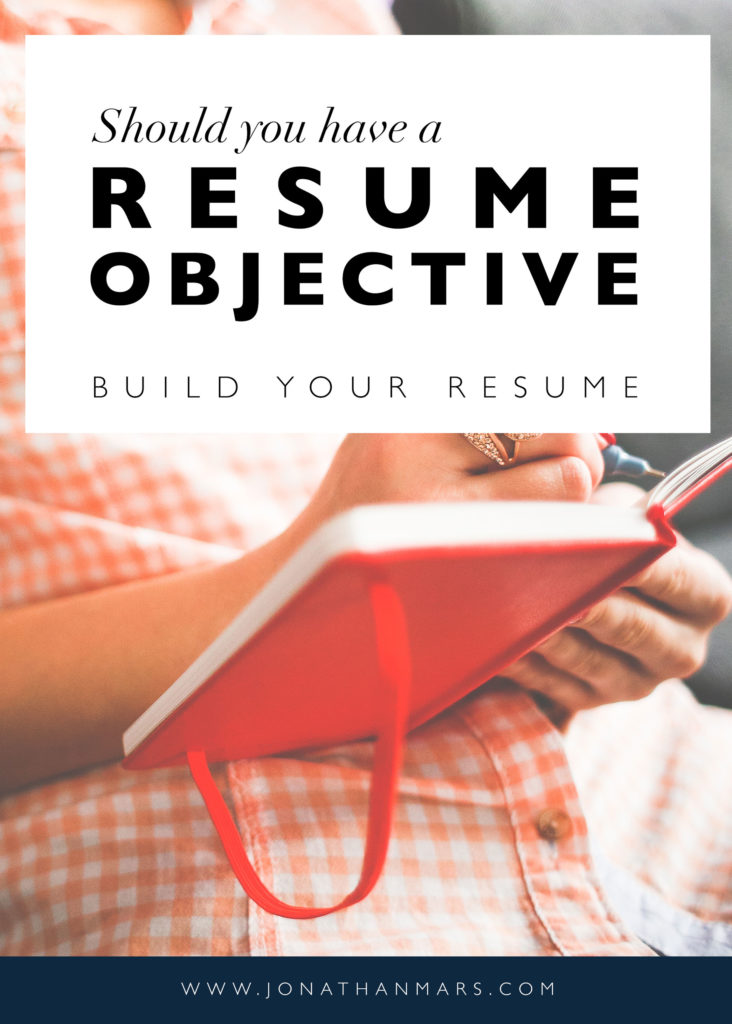 I've never been too interested in resume objectives and thought they'd left with the 90's grunge movement so my first thought was a hard NO you don't need one. I believed it was too "me focused" in the early stages of the hiring process. Yes, I thought, it's helpful, but it's not a huge concern when someone is spending 15 seconds reviewing each resume.
Many folks (myself included) also consider objectives outdated.
However, our recruiter who was with us mentioned how resume objectives can be extremely helpful and she preferred them.  I ordered another Yuengling and prepared to learn.
So, should you include an objective on your resume? The short answer is:  it depends.
But let's take a step back to review the purpose of a resume. Our goal is to put a document together that entices a recruiter or hiring manager to learn more about you.  This usually happens via phone screen, but it could start directly with a face-to-face interview depending on how they received your resume (via your network, ideally, again that's also a different post).
That's it. It's simply a vehicle to have someone pick up the phone.  Don't put more pressure on it than that.
Now, here is the definition of a resume objective according to the internets:
A resume objective is a short, targeted statement that clearly outlines your career direction while simultaneously positioning you as someone who fits what the employer is looking for exactly. Your objective is carefully researched and tailored to fit the job you're applying for.
Got it? Notice it didn't say anything about expressing your love of Star Wars or how you're looking to leverage your 19th-century art history degree. The key part is this: positioning you as someone who fits what the employer is looking for exactly.
In short, even your objective isn't about you. It's supposed to highlight while you'll nail the job – think of it as a 1-2 sentence cover letter.
Let me re-write that again… your objective isn't about YOU!
Really?
Yes!
The Two People Who Should Use an Objective
A recent college graduate. Especially one who's major is different from the industry they're applying to. Given you're just out of college, you'll really want articulate why you're interested in the job.
You're looking to make a career transition. For example, when I made the move from media to tech. If I'm not clear about my intentions with the hiring manager, it could have been confusing why I was applying to tech companies.
Both of these scenarios head off a critical hiring manager's #1 question: Why are they applying for this position? If your resume can't clearly articulate that in less than 7 seconds, you should have an objective. Make it easy for the recruiter or highering manager.
Best Practices for Writing Your Objective
Remember to write it for a hiring manager (it's not about you).
DO NOT start it with "To obtain a position as a…" That's analogous to directing a cover letter, "to whom it may concern." You may as well just throw your resume in the trash.
BE SPECIFIC. If you have 10 years of public relations experience – say it. Avoid rhetoric such as, "….where I can apply my skills and experience."
DO NOT litter your objective with buzz words e.g. innovate, impact, scale, etc.
CHANGE the objective for every job you apply to. You should not have the same objective twice.
MAKE sure your resume bullets support your claims in the objective e.g. 10 years in finance maps to your various finance jobs in the body.
Examples of Bad Objectives
To obtain an analyst position working for a world-class hedge fund.
Leverage my underwater basket weaving degree for a company that lets me work from home.
To get a job.
Examples of Good Objectives
Seeking a position at XYZ Company where I can maximize my 10+ years of management, quality assurance, program development, and training experience.
Highly skilled and knowledgeable Civil Engineer with a strong record of sound and safe public works construction projects. Adept at coordinating with building and engineering professionals for every project stage. Strong multitasker with exceptional skill in functioning well in a high-pressure work environment for the past five years.
Highly dependable and adaptable Babysitter with an exemplary record of parent and child satisfaction with three years of experience. Able to respond quickly and creatively to unusual or difficult child care situations. Flexible scheduling availability to include all days evenings and some weekends. Certified in CPR.
Prior to reading this post what was your opinion on resume objectives? Leave me a comment to share your thoughts.
Finally, remember a lot of the above becomes less important if you run an effective job search focused more on relationships and less on resume rules. I can help you do this and mitigate the importance of resume objectives altogether. If you're interested, reach out to me here