My team has several open roles right now, and I've experienced a minor annoyance I think is worth sharing. Here's my quick advice: Put your resume in PDF format before applying for a job.
The Resume Review Process
Before I get into why this presumably small detail is important, let me give you a small window into how reviewing resumes works for me. Our recruiting team does a great job of making it easy to scan resumes. Every Monday I receive an email with a link to our shared document letting me know last week's resumes are ready to review.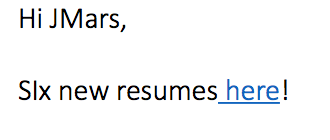 I do my best to get this done by EOD Monday, or Tuesday morning at the latest. (I'll write more on how to create a hiring machine later). The shared doc has a row for every candidate with a resume attachment. (Here's how it would partially look if I applied)

I click on the paper clip and a box pops up.

If the resume is in PDF format, I'll simply double click and the PDF resumes will quickly be added to my browser. One tab = one resume. See what I mean here:

I can now quickly scan each resume, note if I want to phone screen the person in our shared doc, and quickly get on with my day.
If someone applies with a Microsoft WORD resume, the first thing I have to do is throw my mouse against the wall.
Just kidding.
But in all seriousness, I now have to wait for Word to load. If more than one person applies with a Word resume, I now have to open multiple word docs open, which wreaks havoc to my seamless workflow with PDF resumes.
It's just annoying. And unnecessary.
How to do It
I suppose I shouldn't assume everyone knows how to put their resume into a PDF format. If that's the case, here's what you do inside Microsoft Word:
Click File -> Save As
Select File Format -> PDF
Click Export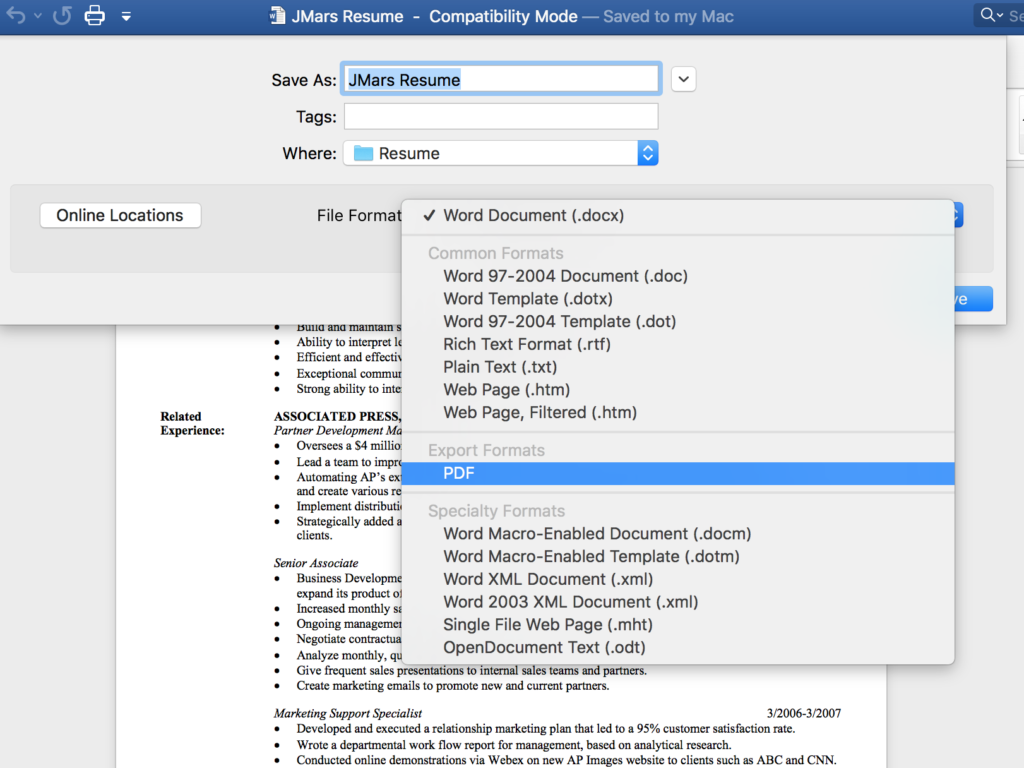 Why This is Important
Because the person reviewing your resume is busy. Whether it's a recruiter, a hiring manager, or me. We're all doing something that is important, moderately annoying, and we need to get on with the next thing. By submitting a Word document, you have now thrown a little wrinkle into our day, which becomes a major annoyance when you're reviewing 10+ resumes.
Plus, the little things matters. It's easy to brush off this advice thinking it's no big deal, but in order to land that dream job you need to do the little things right.
Finally, treat your resume like a fine piece of art. At a minimum, it's your entire career on a page or two. Why leave it in a form that someone could accidentally edit or tarnish?
Putting your resume in PDF form makes it look cleaner and puts a bow on a process that should have been a lot of hard work.
Thanks for reading my post rant,
JMars